With upwards of sixty aircraft participating in each sortie for Exercise Pitch Black, there is naturally a very high demand for air-to-air refuelling capability. This year, the demand has been matched by five variants of the Airbus A330 Multi Role Transport Tanker (MRTT) being deployed simultaneously with up to seven individual aircraft available for each sortie. The Aviation Studio were invited to join RAAF No. 33 Squadron (33SQN) on an air-to-air refuelling sortie where we were joined by the Armée de l'Air et de l'Espace and the Royal Air Force over the skies of the Northern Territory.
The Flight
Departing from RAAF Base Tindal onboard KC-30A A39-003 shortly after midday as GASSER 02, we climbed to FL230 and entered our assigned refuelling position over the Bradshaw Field Training Area. Assigned a block altitude of FL220-FL240 or 22000 – 24000ft, this allowed our receivers to arrive and depart from the tanker in an uncontested airspace. Additional MRTT operators in the skies during this particular daylight sortie included the likes of Singapore and NATO (out of RAAF Base Darwin) alongside Australia, France and South Korea (out of RAAF Base Amberley).
For today's sortie we would be refuelling 'red air' aircraft with two Royal Air Force Eurofighter Typhoons from No. 6 Squadron under the callsign of Phantom 71/72 alongside two Armée de l'Air et de l'Espace Dassault Rafale Bs from 4e Escadre de Chasse under the callsign of Rebel 41/42. Flying at 275kts or roughly 510km/h over the Top End, the four aircraft arrived in two pairs appearing off the left wingtip of the KC-30A. Following their refuel, they shifted to the right wingtip before ascending to FL240 and returning to their mission.
Unlike the majority of aerial refuelling operations during Exercise Pitch Black that follow uniform racetracks around a fixed anchor point, GASSER 02 opted for a varied series of right-hand and left-hand orbit on various tracks. This allowed receiver aircraft to be 'picked up' and 'dropped off', reducing transit time between receipt of fuel and the sortie's area of operations.
Following their first refuel, Phantom 71/72 returned for a brief top up before heading back to their mission prior to their return to RAAF Base Darwin.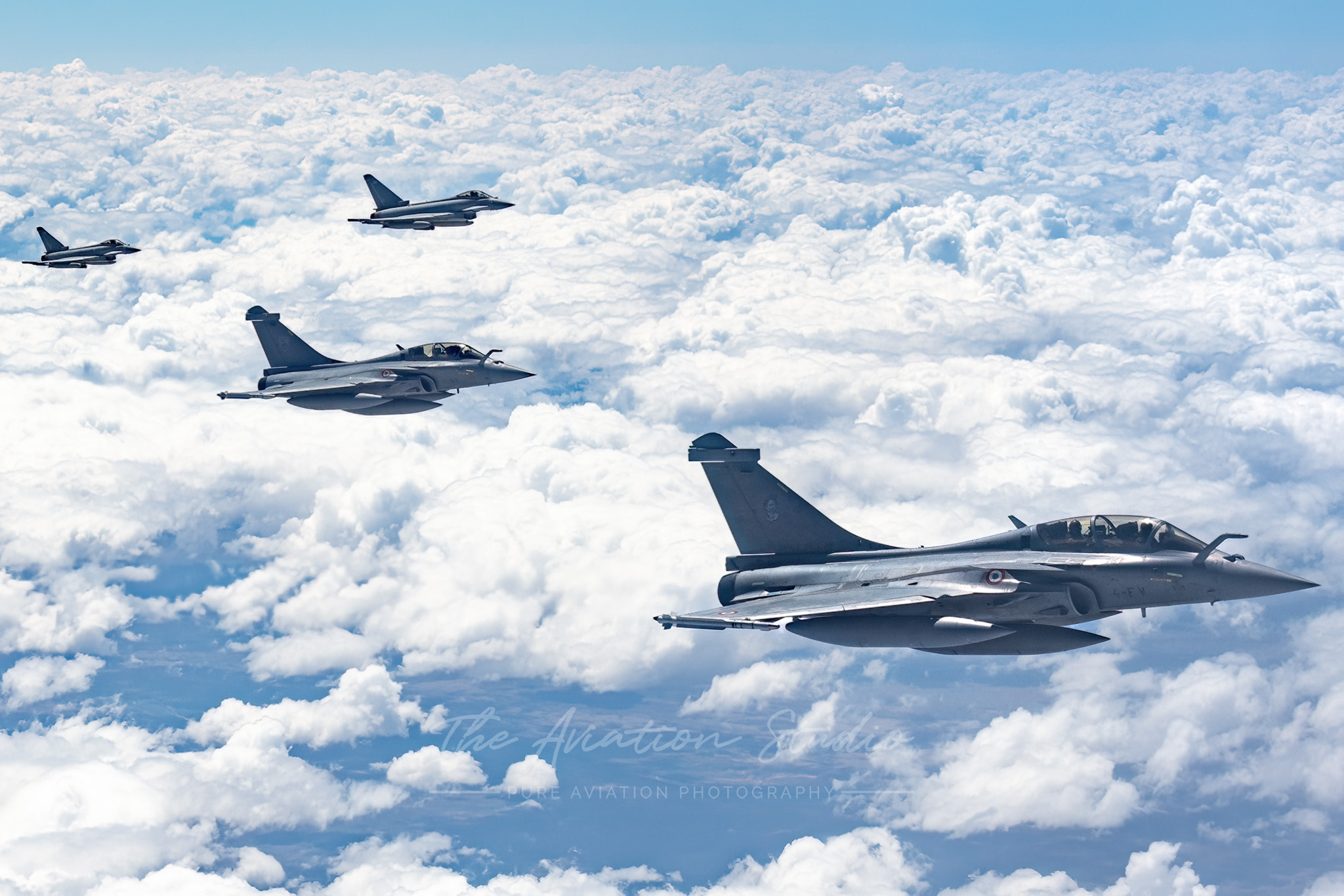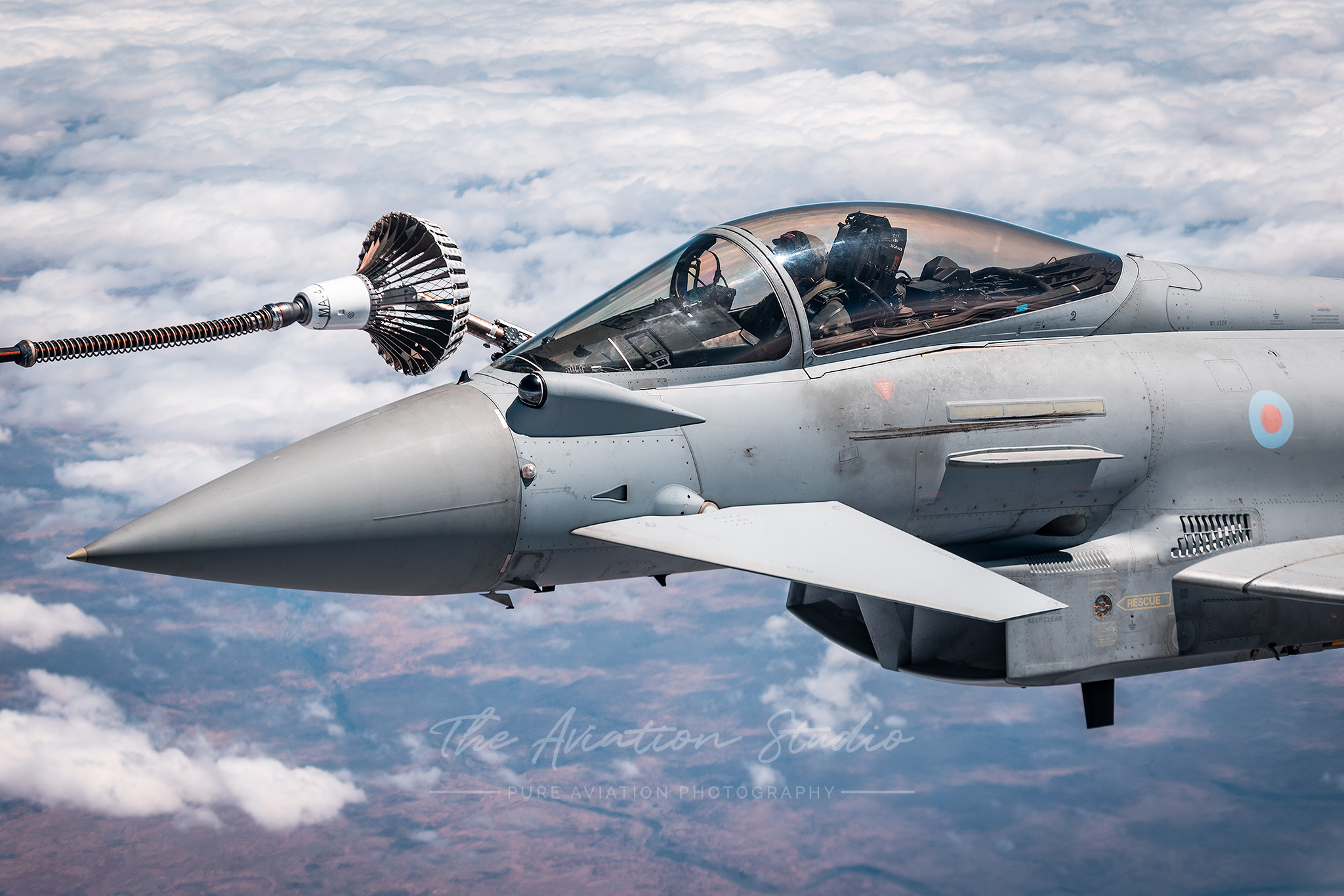 The KC-30A
Ordered as an initial batch of five aircraft as part of Project AIR 5402 in April 2004, the RAAF now operates seven KC-30A MRTT aircraft with No. 33 Squadron out of RAAF Base Amberley. Forward deployed to RAAF Base Tindal, 33SQN are tasked with providing air-to-air refuelling to exercise aircraft. To facilitate future deployments to Tindal, the base is expanding with a new apron to accomodate up to four KC-30As under the United States Force Posture Initiative Airfield Works. They join an extensive network of MRTT aircraft that are participating in the exercise including the United Kingdom, NATO, France and South Korea.
Designed to refuel a variety of coalition aircraft, the RAAF KC-30A fleet are equipped with a pair of Cobham 905E under-wing hose and drogue refuelling pods alongside a single Aerial Refuelling Boom System (ARBS) at the rear of the aircraft. These two systems allows for increased interoperability without the need to retrofit additional refuelling equipment such as the basket system used on most USAF KC-135 Stratotankers in place of the ARBS system (the remaining small portion of the fleet feature under-wing systems).
With an ability to offload over 50 tonnes of fuel and remain on station for up to four hours, the KC-30A has seen extensive use in Operation Okra alongside long-range refuelling missions for international deployments such as Exercise Red Flag. Through the use of the underwing hose and drogue system, fuel can be offloaded at rates of up to 1100kg/min however this can vary depending on aircraft type and loadout with Australia's fleet of F/A-18F Super Hornets typically tanking at around 350kg/min. The centreline boom system offers higher offload rates of up to 2250kg/min and is typically used for larger fixed wing aircraft (ie. C-17, KC-30) or limited fighter aircraft (ie. F-35A, F-16).
Each system has its advantages, with the hose and drogue system not requiring a dedicated operator, easier adaptation to receiver aircraft and increased interoperability between types and nations. Meanwhile, the boom system offers higher offload rates and decreased pilot workload however it requires a dedicated boom operator.
The RAAF KC-30A can also be configured for a VIP transport role, with it being used several times on long-haul international trips for senior members of cabinet. In 2015, two additional aircraft were ordered and converted to the KC-30A configuration from baseline Qantas A330-200 models to sustain this additional capability requirement
With so many coalition nations operating variants of the Airbus A330 MRTT, it paints an interesting perspective on the USAF's ageing fleet of tanker aircraft, most recently augmented by the KC-46 Pegasus (based off the Boeing 767-200). Given the heavy interoperability between the MRTT and coalition receivers, it is no surprise that Lockheed Martin has offered the LMXT in response to the USAF's ongoing KC-Y Program to bridge the gap between current generation refueling capability and next generation Advanced Air Refueling Tanker capability, referred to as the KC-Z Program.
The Aviation Studio would like to thank the Royal Australian Air Force, No. 33 Squadron, Defence Media and SQNLDR Hamilton for providing us with this opportunity.