The skies over Savannah have been packed as the USAF William Tell Air-to-Air Weapons Meet resumes after a 19-year hiatus. Nine fighter integration teams from around the country competed in knowledge, basic fighter maneuvers (BFM), air combat maneuvering (ACM), banner, intelligence, and weapons load.
The F-15, F-22, and F-35 were used by the fighter integration teams.
F-15C
104th Fighter Wing, Barnes ANGB, MA
F-15E
4th Fighter Wing, Seymour-Johnson AFB, NC
366th Fighter Wing, Mountain Home AFB, ID
F-22
1st Fighter Wing, Joint Base Langley-Eustis, VA
3rd Wing, Joint Base Elmendorf-Richardson, AK
154th Fighter Wing, Joint Base Pearl Harbor-Hickam, HI
F-35A
158th Fighter Wing, Burlington ANGB, VT
388th Fighter Wing, Hill AFB, UT
419th Fighter Wing, Hill AFB, UT
Command and Control support was brought in and staged at the nearby Hunter Army Airfield.
3rd Wing, Joint Base Elmendorf-Richardson, AK
18th Wing, Kadena Air Base, Okinawa, Japan
552 Air Control Wing, Tinker Air Force Base, OK
The 64th Aggressor Squadron from Nellis AFB, NV provided red air in F-16C aircraft, accompanied by T-38C's from the 1st Fighter Wing.
This year, the Air Dominance Center at Savannah Hilton-Head International Airport was selected to host the near-peer-like competition.
Each day, there would be a launch of jets in the morning and one in the afternoon. Length of the sortie varied daily depending on what the focus of the competition was that day.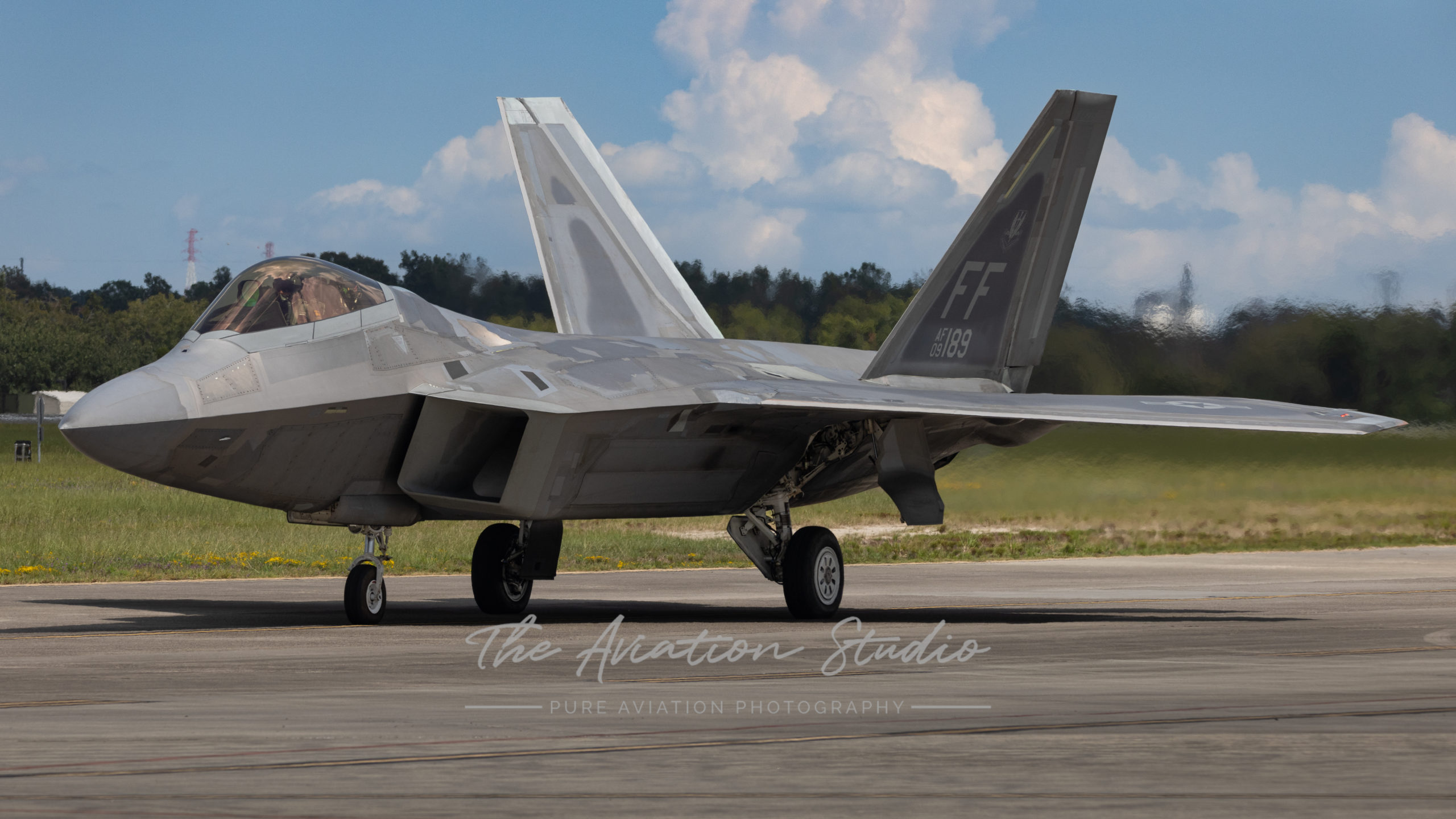 On the ground at the Air Dominance Center, teams could view daily results on a live digital scoreboard. This allows teams to see how they are performing in real time.
A weapons load competition was held for each aircraft type. Three weapons troops represented each fighter wing and would work together to load two AIM-120 Advanced Medium Range Air-to-Air Missiles (AMRAAMs), and two AIM-9X Sidewinders onto their wing's aircraft under the scrutiny of three evaluators. Teams were evaluated on safety, speed, and other factors in front of spectators from their wings.
During the media day on September 13th, The Aviation Studio was given access into the Air Dominance's brand-new fifth-gen aircraft hangar to watch the 4th, 104th, and 366th F-15 Fighter Wings compete during the weapons load competition. The 104th Fighter Wing's team took an early lead before winning the F-15 competition. The wing later won the F15 v F-22 v F-35 weapons load competition, winning the Overall Weapons Load Competition.
On the last day of the William Tell 2023, the F-15 Eagle and F-22 Raptor were pitted against eachother for an "Eagle vs Raptor Afterburner Takeoff Competition".
On Friday, September 15th, the winners for all categories were announced. Here are the results…
– CMSGT "PETE" LUSSE TOP MAINTENANCE TEAM: 1st Fighter Wing
– WEAPONS LOAD COMPETITION OVERALL WINNER: 104th Fighter Wing
– COL JESSE C. WILLIAMS TOP INTEL TEAM: 1st Fighter Wing
– BIG EYE TASK FORCE TOP C2 WING: 552nd Air Control Wing
– Lt COL JAMES HARVEY TOP F-15 WING: 104th Fighter Wing
– BRIG GEN ROBIN OLDS TOP F-35 WING: 158th Fighter Wing
– CAPT EDDIE RICKENBACKER TOP F-22 WING: 1st Fighter Wing
– MAJ RICHARD I. BONG FIGHTER INTEGRATION AWARD: 3rd Wing, 466th Fighter Wing, 388th/419th Fighter Wing