(Last updated: 19th July 2020, 5pm)
As most airlines begin the process of putting aircraft in temporary storage after the COVID-19 outbreak, some are positioning to help stranded people from around the world get home, many times at the request of federal governments.
Qatar Airways is stepping up its Australian presence
Qatar have added an additional 28 frequencies into Australia to help repatriate Australian citizens during this global pandemic, equating to an extra 48,000 seats per week. This will also be the first time Qatar has had a presence in Brisbane.
Qatar Airways has added an extra 48,000 seats to the market to help stranded passengers get home. The airline operates the following flights:
Qatar even during the COVID-19 pandemic are still operating 150 daily flights to 70 countries.
Qatar Cargo have also announced a dedicated Boeing 777F freight service, operating twice weekly through Melbourne and Perth. This represents 200 tonnes of freight capacity into and out of Australia.
Condor have conducted multiple COVID-19 repatriation flights from Australia at the request of the German Federal Foreign Office
Condor have set up a hub at Phuket to conduct several one-stop repatriation flights from Australia to Frankfurt to bring thousands of German citizens home. These flights include:
April 4th 2020, DE8897 Melbourne-Frankfurt
April 5th 2020, DE8895 Brisbane-Frankfurt
April 6th 2020, DE8893 Perth-Frankfurt
April 6th 2020, DE8893 Sydney-Frankfurt
These flights are in addition to the four Condor flights from Perth a few days prior to rescue tourists from the cruise ship Artania.
Condor's flights are part of a massive exercise by the German Federal Foreign Office to repatriate citizens from across the globe following the COVID-19 outbreak. Elsewhere in the Oceania region, Lufthansa has chartered 747s and A380s to New Zealand, and Air New Zealand is flying to Frankfurt via Vancouver with their 777-300ERs.
Austrian Airlines have flown non-stop from Vienna to Sydney to pick up stranded European travellers
Using a Boeing 777-200ER, Austrian Airlines have flown over 15,960km from Vienna to Sydney to repatriate travellers home via Penang. The flight from Vienna, which operated empty, flew a longer distance than the regularly scheduled SQ21/22 from Singapore to Newark (at 15,344km).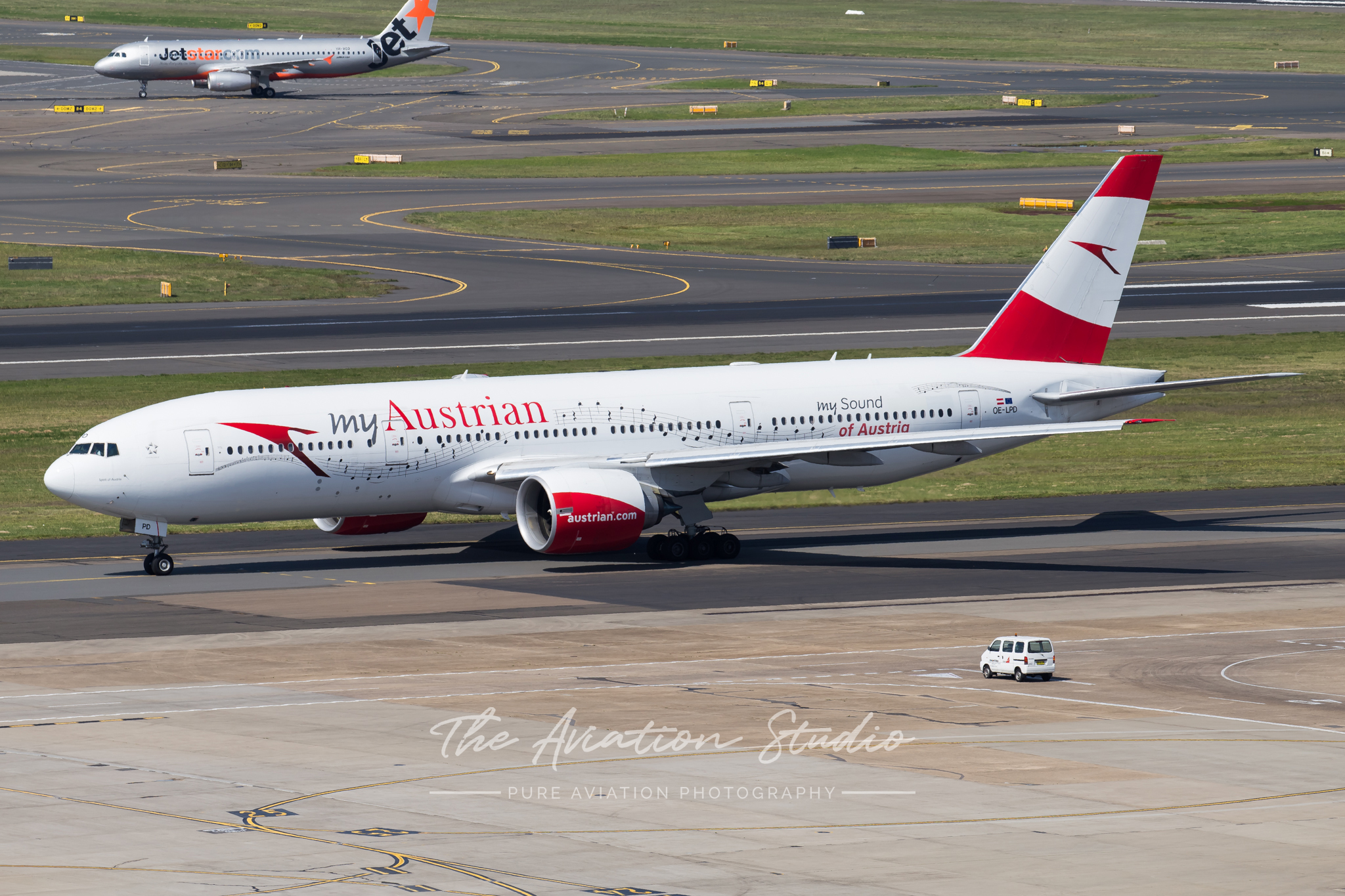 Austrian have also operated similar flights to Auckland and Christchurch in partnership with Lufthansa, representing the farthest Austrian Airlines and Lufthansa have been from home.
KLM has been welcomed back to Australia for the first time in 20 years
KLM has rotated two Boeing 777-200ERs through Sydney over the course of five days to repatriate Dutch citizens to The Netherlands via Kuala Lumpur. This represented the first time a KLM aircraft had touched down on Australian soil since they cancelled services in the early 2000s.
A separate KLM flight via Narita, operated by a Boeing 777-300ER, was noted arriving in Sydney on the 17th April.
Edelweiss Air have repatriated citizens to Zurich
Edelweiss Air used an Airbus A340-300 to bring Swiss citizens from Sydney to Zurich via Penang. This is an airline generally seen in Australia only for rare tourist charters.
Iberia rescues stranded Spanish citizens
Iberia used an Airbus A350 to return Spanish citizens back to Madrid, via Bangkok. The flight, arranged in collaboration with the Spanish Foreign Ministry, marks the first time Iberia's A350 has been seen in Australia.
El Al Airlines have sent their Boeing 787s to Melbourne and Perth
El Al have used their Boeing 787 to fly to Melbourne and Perth from Tel Aviv. The flight between Melbourne and Tel Aviv, at a great circle distance of 13,736km represents the longest flight in El Al history, and if operating as a regular service would be the 8th longest flight in the world by distance.
The Australian Embassy in Kathmandu chartered a Nepal Airlines A330
Onboard were 250 Australian and New Zealand tourists. The routing for Nepal Airlines' first flight down under was Kathmandu-Kuala Lumpur-Brisbane. An Air New Zealand flight met the Nepal Airlines flight to take the 27 Kiwis onward to Auckland.
This was the first time a Nepal Airlines aircraft had visited Australia.
Subsequent flights have been mounted to Sydney, Canberra and Melbourne.
Omni Air International has operated a series of charter flights into and out of BNE
Omni Air International (OAI), usually seen in Australia as a contractor for the US military, has been operating charter flights with Boeing 767-200ERs around the Pacific to bring both Australian and US citizens back to their respective countries. It has also reportedly taken US, Australian and UNICEF humanitarian aid to Papua New Guinea, Vanuatu, Solomon Islands and Samoa, no doubt to help tackle the COVID-19 crisis and also assist in the aftermath of Cyclone Harold.
OAI's Boeing 767-200ERs were last seen in Australia during Exercise Talisman Sabre 2019.
More freight flights
In addition to the extra freight capacity brought on by Qatar Airways as mentioned above, airports around Australia have seen an increase in freight movements. Both a Suparna Airlines Boeing 747-400F and an Antonov Airlines AN124 have visited Sydney, and existing dedicated freight services have seen their capacities upgauged to cope with the increase in demand.
Air Transport International (ATI) have also begun a regular Boeing 767-300F flight running a Hong Kong – Guam – Sydney – Hong Kong service. This is in support of the DHL Express network in Asia under the terms of a standalone agreement with DHL-Bahrain to provide capacity support for general express freight and delivery of COVID-19 related relief supplies to Sydney.
Lion Air steps in to bring Australians home from India
Indonesia's Lion Air has mounted a series of flights to bring stranded Australians home from India. The first such flight arrived in Melbourne on Sunday April 12, with a further two flights arriving in Adelaide and a fourth flight due to arrive in Brisbane. All were operated by a mix of Airbus A330s and Airbus A330neos.
Lion Air's subsidiaries Malindo Air and Batik Air fly regularly to Australia with Boeing 737s, however this is the first time Lion Air branded aircraft have visited.
Sri Lankan Airlines becomes Sydney's newest airline
Sri Lankan Airlines have, over the past few months, operated regular flights from Sydney, likely to carry airfreight owing to the loss of volume in the bellyholds of commercial flights from Australia to Sri Lanka via other ports. They have used a mixture of Airbus A330-200s and Airbus A330-300s.
MIAT Mongolian Airlines brings their 767 to Sydney
MIAT Mongolian Airlines initially filed for a repatriation flight in early May, however this ended up happening in June owing to a lack of initial interest.
Pakistan International Airlines mounts a rescue flight for stranded Pakistanis
Melbourne on the 26th April bid farewell to a Pakistan International Airlines (PIA) Boeing 777-200LR carrying 250 stranded Pakistanis back to Lahore. This flight was organised by the High Commission of Pakistan Canberra.
EgyptAir visits Australia for the first time
Brisbane on the 26th April welcomed EgyptAir for the first time in its history, with the Boeing 787-9 mounting a repatriation mission from Lungi, Sierra Leone with fuel stops in Cairo and Manila. Originally, the aircraft was supposed to go to Sydney however this changed to Brisbane at the last minute.
The aircraft left Brisbane on the 27th April direct to Cairo.
Saudia mounts semi-regular flights
Saudia have mounted several flights to and from Sydney over the past few months, using a mixture of different aircraft across their 777 and 787 fleets.
South African on the East Coast
South African Airways also mounted one rescue flight to both Sydney and Brisbane. For both airports, it was the first time they had seen an Airbus A340-600 for quite some time.
On the 7th June, SA2982 arrived in Brisbane direct from Johannesburg with the return flight, SA2983, departing Brisbane on the 9th June. A similar flight was operated to Sydney just over a week later, arriving 17th June and departing on the 19th June.
Considering South African Airways have been placed into bankruptcy protection, this was a particularly unusual movement for this unusual time.
Myanmar Airways International Spotted in Sydney
Myanmar Airways International (MAI) have operated Yangon – Bali – Sydney with an Airbus A319, carrying Indonesian, Australian and New Zealand nationals.
Dark clouds for the aviation industry, but there's still a silver lining
Whilst the COVID-19 crisis has totally uprooted the aviation industry, causing widespread job losses, these unusual flights provide a unique opportunity for aircrews to fly to new destinations, and for airlines and airports to maintain some utilisation of their staff and assets. Whilst it's not much consolation for the massive loss in demand, we at The Aviation Studio are hoping that its enough to see airlines through to the end of the crisis – when the skies are busy once more.